An easy way to mute someone on Messenger app on iPhone
The Messenger app is a means of text messaging friends with whom you have a Facebook contact, but companies also use it for marketing their products. As such, you may receive notifications from them. If you have no interest in their offerings, you can simply mute them. Just run through this guide to find out how to mute someone on Messenger.
How to mute someone on Messenger app
To mute someone on Facebook Messenger, you don't need to dig deeper into the app. Just access its settings and toggle On the Mute icon. We'll show you how to do it!
Launch the Messenger app on your iPhone. Make sure you are running the latest version of the app. Select the chat account you would like to mute notifications for.
Tap the profile icon of the account you would like to mute.
Under the new screen that appears, tap the Mute (bell-shaped) icon.
Select an option to Mute Notifications. By default, the options available are 15 minutes, 1 hour, 8 hours, 24 hours or until you change it.
Verify if the Mute option is ON by looking for the bell-shaped icon crossed out. Exit the app.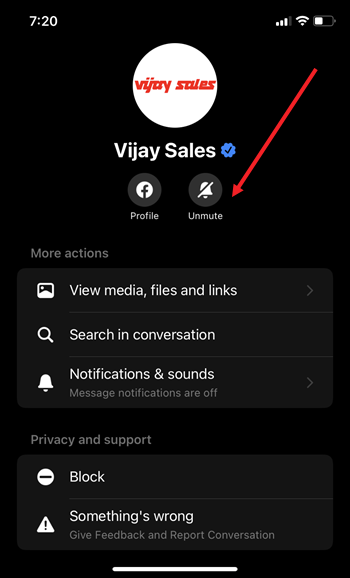 All the notifications from the selected accounts will go on muted and you'll not hear any Facebook Messenger notifications sound. So, if you find the number of chat notifications quite overwhelming, use this method to mute them.
What happens when I mute notifications on Messenger?
The messages from the muted account will be disabled but you won't be able to get rid of the chat heads. For it, you must access the Messenger's settings menu, go to Notifications > Chat Heads and select Off to clear the chat head from within the app.
Can someone see if you mute them on Messenger?
Likely, a yes! Send a message to the person who you think has muted notifications from you. If the time you sent the message, matches the time the recipient has read it. chances are you've been muted.
Hope it helps!
Also read about important Facebook Messenger hacks.
Share on Facebook