An easy way to return a Kindle book for a full refund
Amazon offers moderate refund terms (7-day period) to return a book and claim a refund if you've purchased it accidentally or just changed your mind about it. However, you won't be submitting the request to return a Kindle book through your reading device. You need to use a browser for that. Also, it should be reviewed by a representative to ensure that the return request is valid and complies with Amazon's policies against abuse.
How to return a Kindle book to claim a refund?
Earlier, the option to return a book and claim a refund was available even if someone had finished reading the book completely. This policy was changed later and was restricted to purchases where no more than 10 percent of the book was read. So, if you fit the criteria and wish to claim a refund from Amazon, find yourself a computer and get ready to return a Kindle book. Here's how!
Log into your Amazon account and hit the drop-down button next to the Accounts & Lists heading. From the list of options displayed, choose the Manage Your Content and Devices option.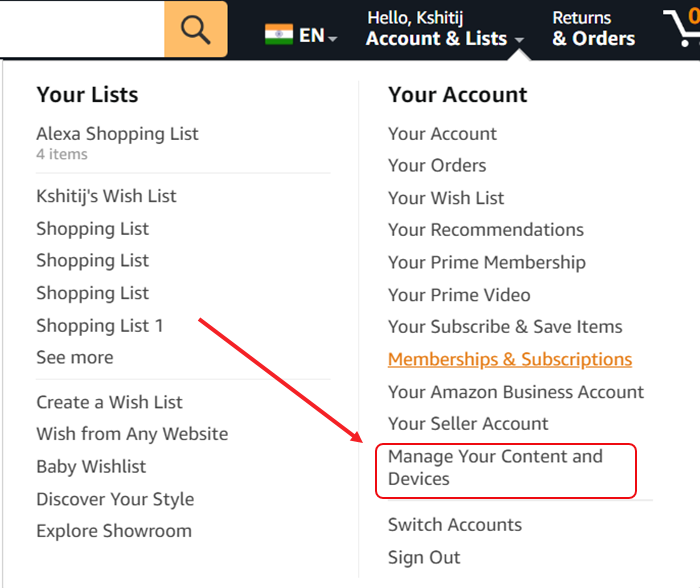 Under the Digital Content section, select the Books category.
From Your Content, select the More Actions button next to the title you would like to return and claim the refund for.
From the list of options displayed under the More Actions button, choose the Return for Refund option.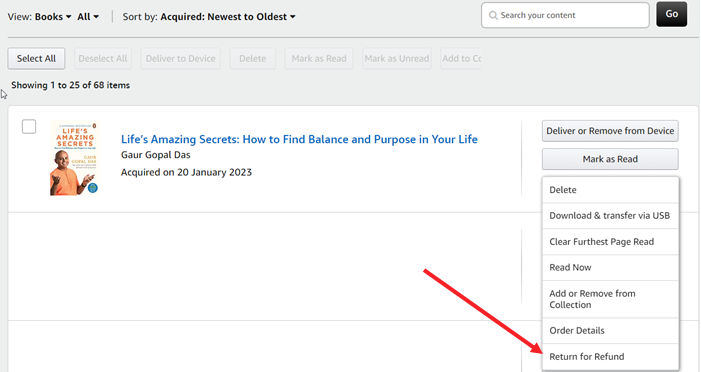 After Amazon approves your request, it will process your refund immediately, but credit the amount to your original payment source within three to five days. You can also delete the book permanently from your Kindle.
Cannot find the option to return Kindle book?
As described above, the kindle book returns policy allows customers to return Kindle books within 14 days of purchase. This is applicable when they've read no more than 10 percent of the book. If you exceed this time limit you will see no option to return Kindle books. Also, make sure to sign in with the same Amazon account information you used to purchase your content.
Keep in mind that while the return will be processed immediately, your refund may not take immediate effect.
Hope it helps!
Share on Facebook