Create Stereo pair with 2 HomePod Minis for an immersive sound experience
Apple's HomePod offers many sound benefits on its own. For example, if you have an Apple TV streaming device and more than one HomePod Minis, you can readily pair them to create a makeshift sound system. Agreed, that's not a cheap option, but if you want to experience a more immersive and room-filling sound, there's no harm in setting up a stereo pair with 2 HomePod Minis.
How to create Stereo pair with 2 HomePod Minis
No doubt, HomePod is one of the best smart speakers but when combined with another unit and the new Apple TV 4K, it can be effectively transformed into a smart home theater system. So, whether you already have a separate theater room or just looking to upgrade your living space into a weeknight entertainment hub, you can get more out of your HomePod. This guide covers a method that will help you experience the real immersive sound system by setting up the Stereo pair with 2 HomePod Minis.
To make sure your HomePod and Apple TV are assigned to the same room in the Home app, go to the Home app on your iPhone. Tap the HomePod entry. Then, scroll down to select the Settings option and tap Room to pick a new room or assign your HomePod Mini to a different room. Make sure your Apple TV is also assigned to the same room.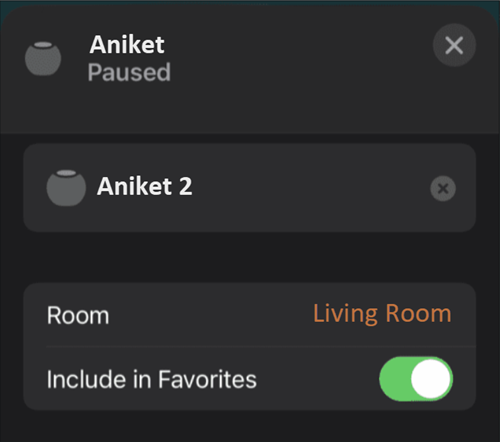 Inside the Home app, go to Settings again. Tap the Create Stereo Pair option and pick the HomePod that you want to include in the stereo pair. This speaker will respond to Siri requests, plays alarms, and act as a speakerphone.
Under the next screen that appears, select whether the speaker will provide left- or right-channel audio. Repeat the same process for your second speaker.
Choose the Settings icon on your Apple TV Home Screen. Scroll down to Video and Audio tab and choose Audio Output. Select the stereo pair that you want to use for home theater audio.
Now, with two HomePod speakers set up as a stereo pair, your room's soundstage will get even wider and deliver a more room-filling sound. Each HomePod will automatically adjust its audio to sound great using spatial awareness to sense and play music completely in sync. The setup also offers you the perks of a Siri-powered smart home. As such, you'll even have the option to control your TV with voice commands.
How do I position my HomePod mini for my stereo?
Though you can place the 2 speakers anywhere in the room, we recommend you to always keep them near a mains outlet. By the way, Apple has also added sound recognition support for smoke and carbon monoxide detection in HomePod.
Can you Stereo pair HomePod and HomePod Mini?
No, you can't mix up two different variants. You can either create a stereo pair with two HomePod mini speakers or two HomePod speakers in the same room. The pairing of similar variants ensures you create the right setup for an immersive soundstage.
HomePod stereo pair not working?
Weirdly enough, you can solve this problem by pairing, then unplugging, re-plugging, and moving the HomePods a bit. Also, check if you are running the latest version of the Software. If not, you can manually update the HomePod through the Home App. Also read about HomePod Touch controls.
Share on Facebook