Dark Web Monitoring in Google One: Keeping Your Digital Footprint Safe from Dark Web Threats
I know, it can be unsettling to discover your data leaked on the dark web and I'm not blaming you for any disregard of this peril. Admittedly, it's a widespread misconception that our online existence is resistant to breaches. The reality however contradicts this notion. So, adopting some kind of proactive safety measures is a much better option than regretting it later. Being a Google One subscriber, you get the privilege to verify if your data lurks in the shadows of the internet. Stay with me as I guide you to uncovering and securing your digital secrets via dark web monitoring in Google one.
What is Dark Web and Dark Web Monitoring?
Before I dive into the practical workings of Dark Web Monitoring in Google One, allow me to demystify what the Dark Web is for you and help you understand the pivotal role many Dark Web Monitoring apps and services play in maintaining your online safety. Here are some insights that go beyond the surface!
The Dark Web is a place hosting shadowy websites. These websites remain hidden from regular search engines like Google or Bing and are accessible only through specialized engines like TOR. They trade in stolen identities, from driver's licenses to credit card numbers, Social Security Numbers, etc. In contrast, Dark Web Monitoring acts as a vigilant guardian, letting you set up a profile to scan the information you are setting it up for. This may include sensitive info related to your passport number, medical records, date of birth, email accounts and more. These are the types of user data that are at high risk on the Dark web.
Upon activation, the monitoring tools deploy scanners, crawlers, and scraper bots to meticulously scan the farthest corners of the web and check if any of your sensitive information has slipped into the wild. You receive timely notifications with actionable steps if anything unsavory comes up.
Among other third-party apps and services that safeguard your digital identity with insight into the hidden depths of online security, I find the Dark Web Monitoring feature in Google One particularly interesting since, in addition to giving me extra space for a monthly or annual fee and allowing me to create Cinematic Photos in Google Photos, it gives me a built-in option to scan and extract data from dark websites. The service tacks onto my Google account so there's no need to create a separate account and costs merely $1.99 for a 100 GB plan. It allows me to scan up to 10 email accounts.
How to use Dark web Monitoring in Google one?
Kindly note, that the Dark Web Monitoring in Google One doesn't actively shield your information from the dark web. It simply notifies you, assists in checking if it's being shared in inappropriate places, and offers suggestions to enhance your safety.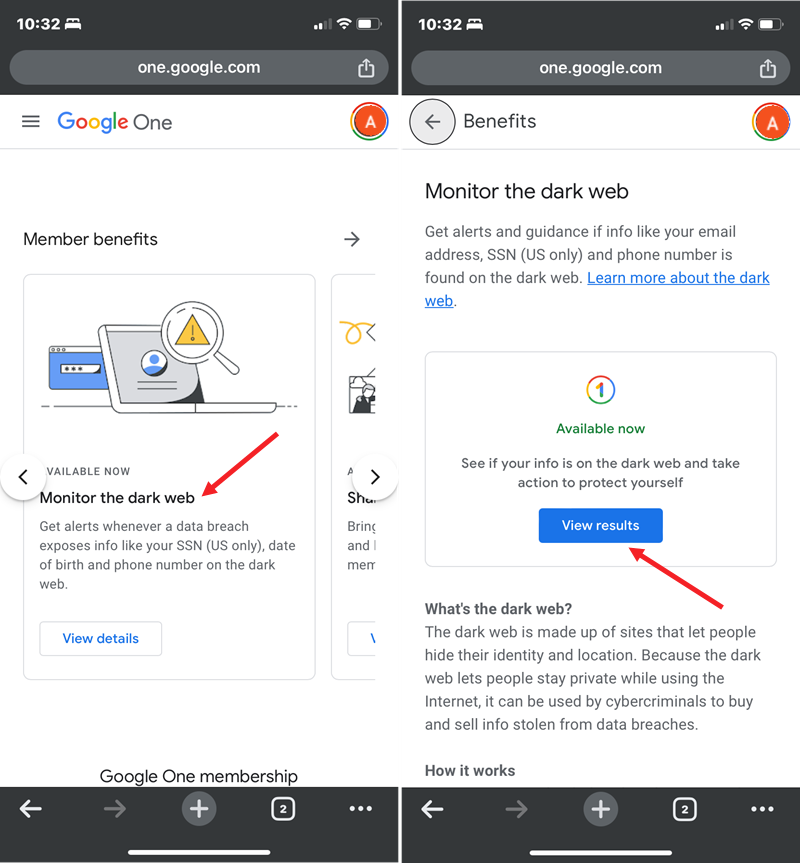 Go to one.google.com.
Look for the 'Monitor the Dark Web' option under the Member Benefits section.
Click Get Started to initiate monitoring.
Enter your email address.
Specify if other information like date of birth and phone number should be monitored later.
Hit the Start Monitoring button at the bottom of the screen to start the scan.
Wait for the summary page of your dark web report to appear.
Select View Results to see how many times specific data comes up on the Dark Web.
Explore details like breach time and compromised information.
Even if your profiles don't show up on the Dark Web, the report will suggest precautions like setting up two-factor authentication.
Fortunately, the investigation revealed no issues, and my account was found to be secure from any breaches. This brought a sigh of relief.
Note: Only accounts with a US billing method can include a Social Security Number (SSN) in their monitoring profile. Also, the information in your monitoring profile adheres to Google's privacy policy. So, if you have any concerns, you can delete all information from your profile or cease monitoring at any time. For further details on how Google manages this information, you can refer to this link. To delete all info:
Navigate to the Summary of Your Results section.
Click on the Edit monitoring profile link.
Scroll down to find the Delete monitoring profile button.
Click on it to erase all your information and deactivate the dark web report.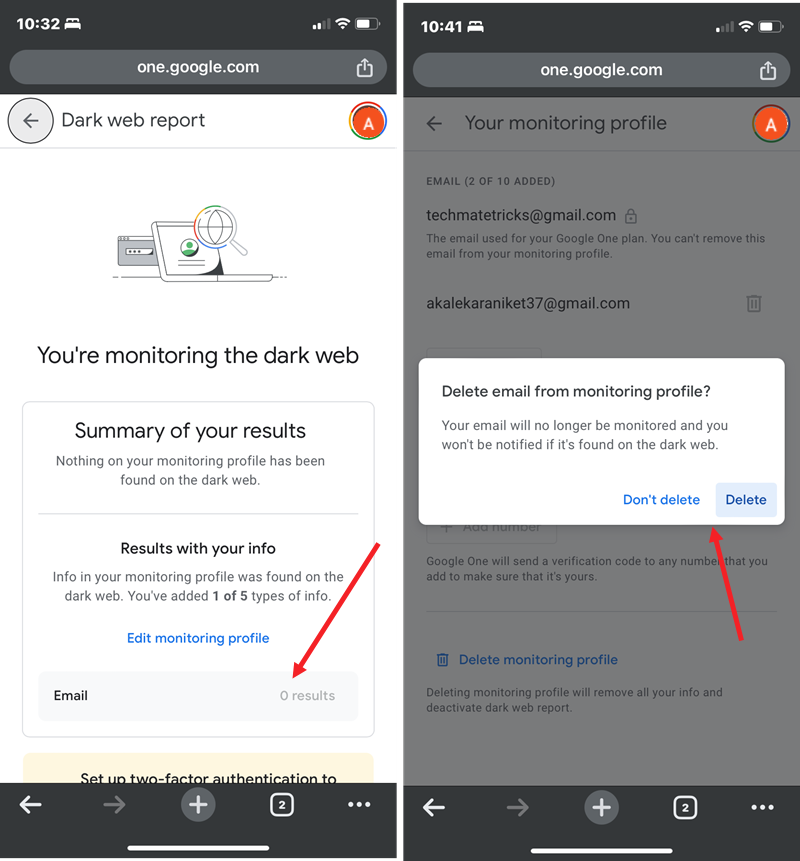 How does Google's Dark Web Monitoring differ from other products like Firefox Monitor?
The answer is quite straightforward. Firstly, for Firefox Monitor to check if you've experienced a data breach, you need to sign in with your Firefox account. Even this account requires you to use your Google and Apple Login details or create a separate Firefox account.
Share on Facebook