How do you arrest the spread of misinformation and report someone on Instagram?
Misinformation continues to spread rampantly across social media. As such, you may expect, even demand that these platforms crack down on any information which does not support your version of the truth. Sadly, they have little interest in deterring this activity since it's quite challenging to fully stamp out such content. Besides, it requires full-time policing of virtually every piece of content. Nevertheless, you can report someone on Instagram, if you believe their profile or content posted by them doesn't adhere to the Community Guidelines. Even if it's not removed or blocked, you can be sure to see less of that type of content on Instagram.
How to report someone on Instagram?
You can anonymously flag or report someone on Instagram if you believe their campaign is fuelling an organized social media manipulation. It can be done through the Report link near the content itself. That way Instagram can take action to hide or remove that content from its platform or at least show content similar to what you reported less in your feed. You can also use Sensitive Content filter to have more control over the content in your feed.
Go to the post or content you would like to report on Instagram. In the lower-right corner of the page, you'll see a More Actions menu(visible as 3 horizontal dots). Tap to expand it.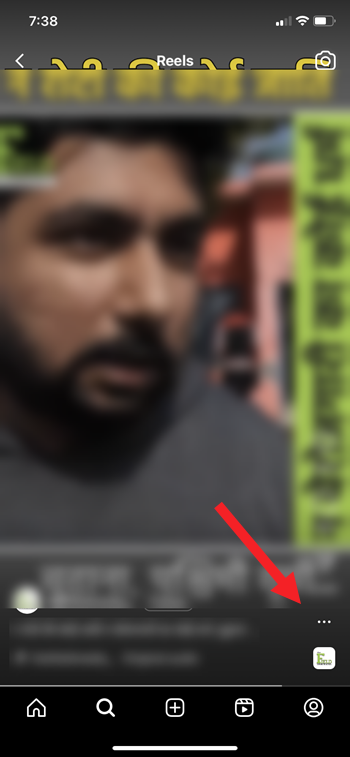 From the list of options displayed under the menu, choose the Report option.
Pick a reason from the list. Your report will be anonymous, except if you are reporting an intellectual property infringement. Currently, you can report a post for any of the following reasons:
Spam
Nudity or sexual activity
Hate speech or symbols
Violence or dangerous organizations
Bullying or harassment
Selling illegal or regulated goods
Intellectual property violations
Suicide or self-injury
Eating disorders
Scams or fraud
False information
Under the Support actions screen, there are 2 options listed, Block and Restrict.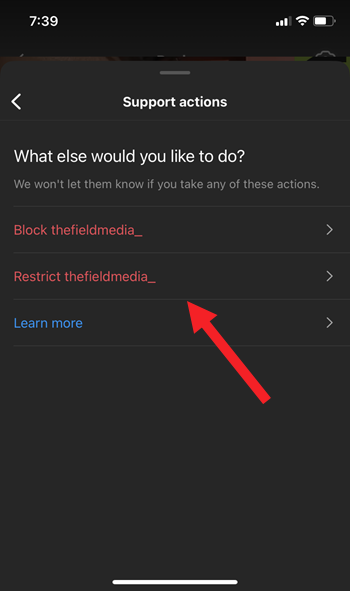 Choose the desired option to proceed further. Confirm your action, when prompted.
How to report someone through their profile?
Visit the Instagram profile of the user. Tap the username from their Feed or Story post. Alternatively, you search their username through Explore to find their profile.
Click More Actions next to their username.
Hit the Report option then select the type of account you want to report and follow the on-screen instructions.
Instagram has a large teenage and young adult audience and you can play your part in keeping it safe by using Report tool effectively. So, next time you come across a post that invokes a heightened level of offense and concern over the platform's safety report it to Instagram.
Do you know how to create your own Instagram icon logo using the Shortcuts app on iPhone?
Share on Facebook