Download your Facebook data to find what it knows about you
People who fear that Facebook stores a lot of information about them can see and take out all of it by getting access to their Facebook archives. If the process is not so apparent to you we'll show you how to download your Facebook data and have all of this info in one place, in your possession.
How to download your Facebook data and  find what it knows about you
To download your Facebook data, you must first go through several steps. These steps are in place to specifically prevent any other person from getting access to your Facebook archive. Once you get there and download all the information, you may run into some surprises, both positive and otherwise. So, even if it seems excessive, you may have cause for it. You can even choose to transfer all your data between different online services through the Facebook Data Export tool.
Launch the Facebook app and go to Settings & Privacy. Then, choose Settings. Scroll down to access the Your Information section and tap the Download your information option.
To request a copy of your information, hit the Request a download button.
You can either choose to download a complete copy or select the type of information you want to include in your file. These include, Saved items and collections, events, Facebook Gaming, Payments, Fundraisers, etc.
You can pick the desired Email address, Format and Media Quality of the file. For example, there are HTML and JSON format options to choose from. HTML allows you to easily view your data offline on your computer whereas JSON lets you easily import your data into another site.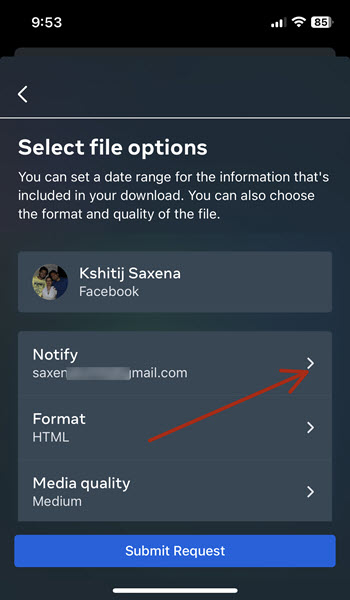 Facebook will let you know when your copy is ready so you can download it to your preferred device. Initially, you'll see a Pending download status. Facebook will also send 2 emails. The first acknowledges that a request was made, and the other gives you a link to get the file when it's ready. The time required by Facebook to create a copy may vary depending on the size of your file.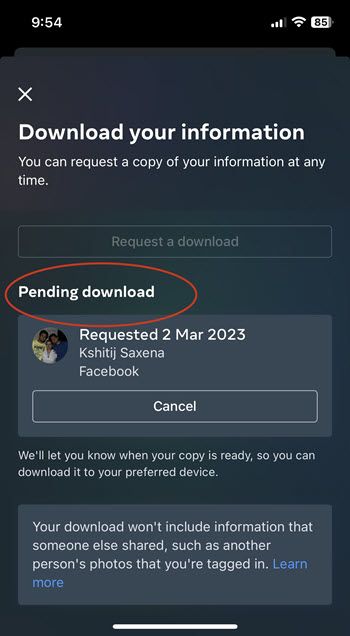 When the copy is available, hit the Download button to download all information as a zip file.
Once you unzip your downloaded Facebook archive, you'll see different folders listed under it, including HTML, messages, photos, and videos. Plus, you'll have a folder containing the file INDEX.HTM. Launch INDEX.HTM and start exploring.
As a rule, Facebook grants 4 days to download your information. This information is a password-protected process so only you can have access to it.
Share on Facebook