Experience better spatial accuracy with Dolby Atmos in Apple Music app
Switching from the conventional stereo experience to the multi‑dimensional sound experience of Dolby Atmos in Apple Music is easy. All you need is the Music app subscription running on the latest version of iOS. Over 20 million tracks in the app are available with spatial audio Dolby Atmos support that can make any good old stereo sound like mono AM radio. Find out how you can listen to them at no extra cost.
How to enable Dolby Atmos in Apple Music app?
We've spent a good amount of time listening to music through vinyl or CD, satellite radios, and very recently through streaming services. However, most of them have been recorded using the time-honored technique of 2-channel stereo. This trend is slowly moving towards spatial audio formats with Dolby Atmos Music being one of them. It allows you to listen to music in a new 'spatial way' by isolating every element in it including voice, instrument, and any other sounds.
On your iPhone Home Screen, tap the Settings icon and go to the Music app.
Scroll down to the Audio section. Tap the Dolby Atmos entry to expand it.
By default, the Dolby Atmos option is set to Automatic. Change it to Always On mode by gently tapping the option.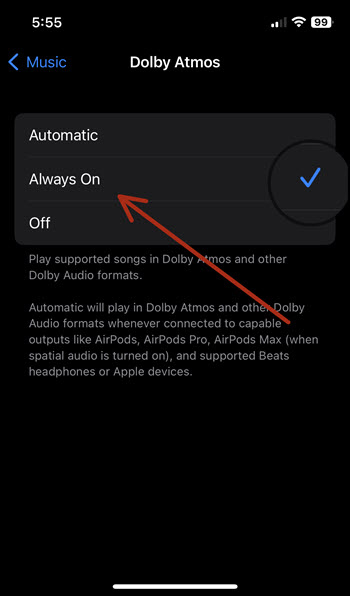 Similarly, tap Audio Quality under the Audio section of Music settings and toggle on the Lossless Audio option.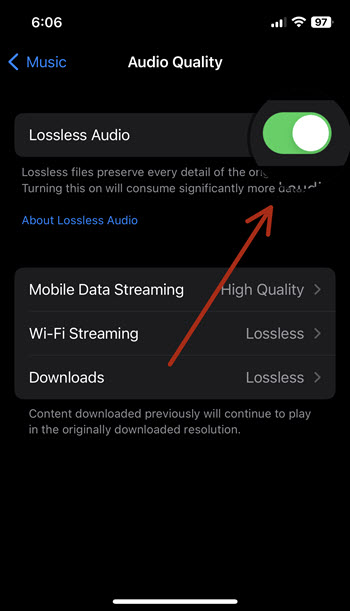 So, if you are looking forward to upgrading your music style or moving it beyond the ordinary listening experience, Dolby Atmos is the way to go.
What is Lossless Audio compression?
As the name suggests, Lossless Audio compression is a form of compression that retains all of the original data i.e., there's no loss in audio quality. Apple has developed its own implementation of Lossless compression – Advanced Audio Codec (AAC). It's capable of delivering audio quality that's virtually indistinguishable from the original studio recording. The resolutions range between 16-bit/44.1 kHz (CD Quality) up to 24-bit/192 kHz.
You can choose the desired resolution range for a Wi-Fi or Mobile network, but we recommend you choose the lower resolution for a mobile network. That's because Higher resolutions use more data than lower ones.
Moreover, downloaded lossless audio files take up significantly more space on your device.
Difference between the Stereo Sound and Spatial Sound
With Spatial Sound you can discover sound all around. This adds more clarity, space, and depth to your music, unlike two-channel audio limitations of stereo mode.
Does Dolby Atmos work with any headphones?
Apple AirPods and even Beats headphones that come equipped with the H1 or W1 chip will be able to make full use of the audio feature.
Which headphone is best for Dolby Atmos?
The Dolby Atmos option for the Music app is set to Automatic by default. In this setting, Dolby Atmos tracks will play best when you're listening via any W1– or H1-enabled pair of Apple (AirPods / AirPods Pro or AirPods Max) or Beats headphones.
Do Dolby Atmos need special headphones?
No! Even non-Apple or some third-party headphones can play back the Dolby Atmos tracks correctly, provided you have the 'Always On' option enabled under Dolby Atmos.
Hope that makes sense!
Share on Facebook